ISCHIA, ITALY
September 16-22, 2012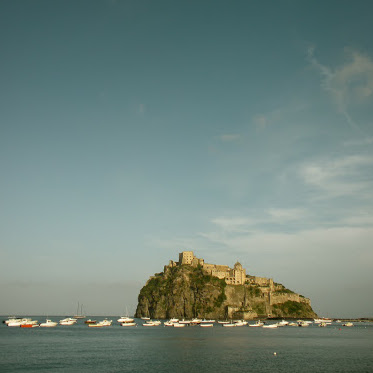 ISCHIA, ITALY
September 16-22, 2012
PRICE: $1,900.00
Come away to the "green island" of Ischia off the Amalfi Coast. Hike dormant volcanos, visit thermal spas, take a boat trip around the island, and see a castle in the sea...all while enjoying yoga and relaxation throughout the week.
sold out
OVERVIEW
THE ISLAND
Ischia is a volcanic island in the Bay of Naples on the mid-southeastern coast of Italy. Located 30km from Naples mainland, it measures just 34km in diameter and is profiled by Mount Epomeo peaking at 788 meters above the sea. Historically, the island has been inhabited by the Greeks, Syrausansa, Romans, Heruli, Ostrogoths, Byzantines, Normans, Saracens, Turks, and Aragonese, and plenty of ruins remain to suggest the lineages of these colonies. With its wonderful climate, nice location from the mainland, and richness of therapeutic hot-springs, it's not hard to see why it was a landscape worth fighting over! Nicknamed the "Green Island", Ischia was one of the world's first health spa destinations. For centuries people have flocked to Ischia to indulge in its volcanic muds and waters rich with healthful minerals. Doctors even prescribe stays here to reap the benefits of bathing in the healing springs. In addition to all its natural wonders, one of the most appealing things about Ischia is the hospitality of the people themselves. You're sure to enjoy the island's welcome and relaxed way of life while during your stay.
THE VILLA
This yoga retreat will be hosted at the beautiful Villa Lina. An "agriturismo", Villa Lina is a country villa situated perfectly on a plantation of olive grove and citrus overlooking the Mediterranean. The property boasts two pools, one of which is filled with the famous thermal waters of the island, and the other with sea water. Enjoy time on the panoramic sun decks, relaxing, meditating, or just taking in the breathtaking views. A private location, the Villa is nestled in gardens of flowers, olives, palms, and lemon trees. Rooms are nicely furnished with balcony or terrace with sea view. Positioned between the beautiful villages of Forio and Sant' Angelo, this location is perfect for a hike to Mount Epomeo, the Baia di Sorgeto, and one of the island's most famous thermal spas. Lovingly run by the owners, brothers Benedetto and Nicola, one can easily see the care and passion put into the villa and the respect of the land of the estate. They consider their property as a piece of paradise and an oasis of pure nature.
CUISINE
Healthful, vegetarian food is part of the retreat experience, including daily breakfast, some lunches, and dinner daily either hosted at Villa Lina or out in carefully chosen restaurants around the island. While eating at Villa Lina you'll enjoy typical cuisine of Ischia prepared by Chef Benedetto, all with the freshest of produce and ingredients. Vegetables come from the on-site gardens or other farmers on the island, and of course you'll enjoy some of the best local wines. Selection is seasonal, and you can guarantee to love and appreciate each bite. Unlike most of our retreats, fresh seafood may be included in some of the dishes as it's the island's specialty. Special diets can be accommodated as well.
SURROUNDING AREA
Not only will you enjoy the grounds of Villa Lina with the sundecks, terraces, gardens, thermal pools, and yoga space, but the retreat also includes carefully-planned day-trips to offer guests a full experience of Ischia. The island is full of various natural wonders, from a dormant volcano, lush gardens, and rich agriculture, to thermal spas, clear beaches, ancient ruins, and endless views across the Bay of Naples. We will visit the village of Ischia Ponte for a visit to the picturesque Castello Aragonese and artisanal shopping in Ischia Porto. Look for the famous thermal mud bath treatments, rucolino liquors, lemon candies, or the handmade sandals. A day will be spent hiking to Monte Epomeo for unparalleled views across the island, as well as a hike to the natural thermal seaside cave of Baia di Sorgeto. We'll also visit the lovely town of Sant' Angelo and spend a day at one of Ischia's popular thermal spa parks where you can hop from pool to thermal pool experiencing various temperatures, ancient therapy techniques, and opt for some treatments like a massage or facial. The week will end with an exciting boat ride around the island seeing the hidden beaches and grottos.
YOGA
Daily meditation and yoga classes will be offered in a way to relax, stimulate, and help guests grow in their own personal practice. Classes are open to all levels, beginner to practiced, and can range from gentle, restorative, and more vigorous vinyasa flow and ashtanga styles.* Style and class levels will be determined and moulded to fit participating students' needs, and with a small intimate retreat class size, students will be able to get personalized attention and comfortability to deeply explore their practice. Depending on each retreat location, classes will be held in a dedicated indoor yoga space and some also offer outdoor options as well for us to use if the weather is agreeable.
Certified yoga instructor and EPM founder, Erin Lewis, will facilitate the classes, helping each student focus on improving their practice and gaining new insights into their bodies and movements. She's studied various types of yoga disciplines since 1998, concentrating on the Ashtanga discipline since 2008. She received her teacher certification in Florence, Italy and has continued her education with various specialty certifications throughout the years. She now combines powerful movements with more anatomical-based core vinyasa flow and restorative movement in her personal practice and teaching style.
* Participation in classes and activities is optional throughout the retreat. All levels welcome!
DETAILS / PRICING
7 days / 6 nights (September 16 - 22, 2012)
Inclusive Retreat Price = $1,900
Deposit to hold space = $800
Max # Guests = 12
* Prices based on shared occupancy. Single supplement available upon request.
** Final balance due 45 days before retreat start date.
Read full cancellation policy in our Terms & Conditions.
INCLUDED*:
Villa accommodation (spacious bedrooms each with private bathrooms, linens)
Breakfast daily
Dinner Daily (including one night dinner at local restaurant)
Select lunches on day-trips
Beverages - including wine
Transfer from Ferry
Transportation to/from day trips
Daily meditation and yoga classes
Use of estate premises (terraces, pool, etc.)
Tour guide on various day trips
Entrance fees during day trips
Visits to thermal spas, hikes, castle
Scenic boat tour of island
Use of yoga mats
Taxes
*airfare and staff tips not included ** all meals are vegetarian. special dietary restrictions can be accommodated
DAY TRIPS:
Hike to Mount Epomeo and enjoy amazing overlooks and historic cave dwellings
Lunch in seaside town of Sant' Angelo
Visit to the Castello Aragonese in Ischia Ponte
Artisanal shopping in Ischia Porto
Free time to relax at the villa or the open thermal beach of Baia di Sorgeto
Boat trip around the island
Day at one of the island's most famous thermal spa parks
LOCATION:
Villa is located in the countryside of Panza in the area of Forio, Ischia
Nearest major airports: Capodochino Airport (NAP - Naples), Leonardo da Vinci-Fiumicino Airport (FCO - Rome)
Ferry Dock: Ischia Porto (most frequent stops) or Forio (closer to villa) We can arrange to meet you at the port in Ischia and assist you to the villa. The port is an easy ferry ride from the port at Naples, and full travel details will be given when you sign up. We can help with the details so you can find the best route for you!
SUGGESTED PACKING:
Besides the basic packing and travel needs, here are a few things to think about bringing with you.

YOGA MAT
Bathing suit (pool, spa, beach)
Yoga clothes
"Yogitoes" yoga mat towel (or equivalent) - helps protect mat and wick sweat for non-slip and comfortable posing
Personal yoga props (blocks, straps, etc.)
Sweat towels for practice
Comfortable walking/hiking shoes
Bug spray
Plug adaptors / converters